Tom plays with Dave Anderson and Bill Felix in 'Six Mile Cross'. A mix of Irish, Bluegrass, Rock 'n Roll and what have you. Nothing too mellow here but worth checking out.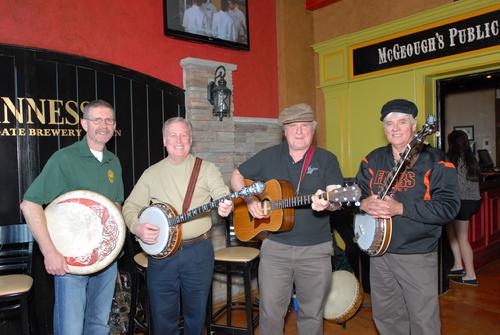 Tom, Jimmie Scanlin, Dave Anderson and Bill Felix. Photo by Chuck McKern
Tom and Jimmie Scanlin will be teaming up at various times. This duo will be known as 'Sligo Road'. Jimmie is an enthusiastic, energetic singer and banjo player with a ton of songs and stories. A true Irishman.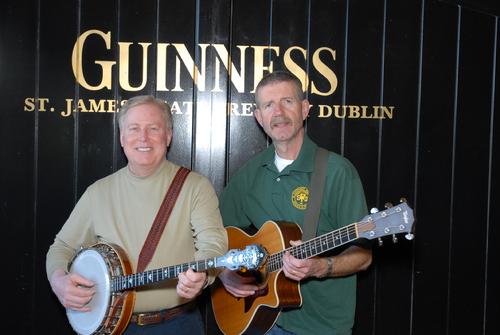 Jimmie Scanlin and Tom. Photo by Chuck McKern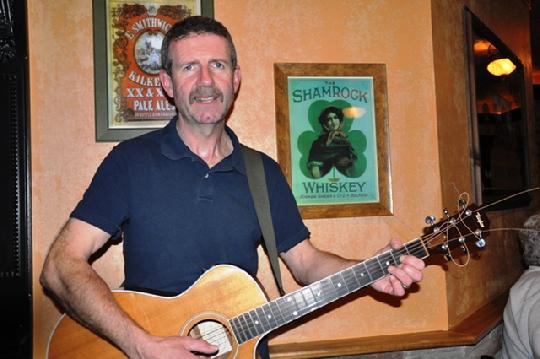 Tom Brett. Photo taken by Pat Sheridan
Happy New Year to all my friends and their families,
Tom, Colleen, Cormac and Niamh.
We lost another very good friend this past week, Kathy Sooy. Our families used to have Sunday night dinners together. Colleen and Kathy were in Dragon Boat and were also avid runners. At 54 she accomplished so much and made many, many friends.
She and her husband John were with me in Ireland in 2012.
She is sadly missed.
Taste of Ireland Tour, November 5-12, 2014

.
See schedule page for details
It is important to support the establishments that support Irish music. Drop in for a drink now and again and tell them that you appreciate the music. Most of the gigs are not late at night and are in your neighbourhood, not across the bridge. Bring the kids and grandkids.
Call me if you have any questions or want to book a gig 856-673-8452 or email: t.w.brett@comcast.net
TBAA Fireballs is a U14 girls soccer team out of Gloucester Township.
They are the current NJ State Champions, two time champions. My daughter Niamh is a member of this fantastic team of players, coaches, parents.
This past July 16, 2013, I celebrated forty years in this great country. Forty years of work, pleasure, making friends, playing music, getting married, raising a family and finally to work in Law Enforcement as an Investigator for the Camden County Sheriff's Office. Six months in the Camden County Police Academy was my reward to allow me to proudly wear the uniform. I was accepted for the Garda Siochana in Ireland in 1973 but could not resist life in the USA. It started in Washington Heights, New York and continues in South Jersey. I've met great people along the way. I married one of them, Colleen. I continue my assimilation into this great society. My first job in this country was as a bartender in New York. I landed on a Monday and was a bartender on Wednesday in the Blarney Stone on 181st Street and St Nicholas Ave, in Washington Heights. Nickles and dimes were new to me so it was quite challenging to combime all aspects of selling alcohol and giving the correct change. No computerized cash registers those days. Just plain math. I got familiar with beer and booze fairly quickly. Getting familiar with the various personalities and colours was a different experience. Next door was an OTB (betting parlour) so we got the winners and losers. Upstairs was a pool/card hall owned by a voiceless Cuban who only drank White Label scotch. A shot of scotch and glass of water. He would come in throw it back and return later for more of the same. Always left a tip. He used to place a voice vibrator (for want of a better word) against his throat to speak. He always had security with him and was in and out in two minutes. A lot of Cuban waiters used to come in after working downtown in restaurants. Great tippers and always friendly and courteous. Top shelf drinkers. I had a few unusual experiences at the bar. One evening an unruly customer would not leave. He was just annoying everyone around him, not confrontational. I went around to where he was, lifted him up and dropped him outside the door. When I returned to the bar the whole place had cleard out. It was 7 o'clock and I knew something was wrong. After a few minutes they started to reappear and take up their previous positions where they left their drinks. I started to ask why everyone left. I was informed that when I lifted the gentleman from his seat I exposed a gun in his pants, which I did not see, but everyone else did, and they all took off. Fortunatelly he never came back. I had another one where a gentleman who used our bathroom facilities daily, but was barred from drinking in the bar, came in with a grapefruit behind his back. He let go the grapefruit at me and fortunately it missed but hit the glass behind me which miraculously did not shatter. He took off, I jumped the bar and got him just outside the door. The rest is history. Did'nt see him after that. I worked with John Callahan on the night shift. John was an experience. Like a bookie, always had money, was customer savvy, took care of those who took care of him. We had some good customers. Those that wanted to come in and chat have a few beers and see you tomorrow. Others up to no good always trying to beat you for a dollar. I got to know them quickly and treated them as they treated me. I never trusted them. Even for a bottle of beer they would call you friend until you asked for the money. The professor was good. Every evening he would have his dinner at the bar, read his paper and enjoy his Windsor Caniadian. Hughie was from Donegal. A retired mailman whose retired life was walking three blocks to the bar each day and spending the whole time talking to himself over a glass of beer. He was my worst image of the Irish immigrant. His mansion was a one bedroom crap hole he called home. I had to walk him home a few times because the locals would rob him when he was drunk. On the other side of the establishment was a corner deli. The cook would pay us a visit over his shift, bring us sandwiches in exchange for a soda cup of whiskey. Fair exchange. Good sandwiches. Eli was another customer who got lost somewhere in the world but used the bar as his living room and bathroom. Nelly, our cook, was his only friend. He figured everyone was out to steal from him. Many did. Johns end of the bar catered to the the owner, Jack Flanagan and his clingons. Jack was a big drinker but held it well. Mind you most of his drinks were so watered he was able to stand up all day in the same spot while accepting the generous offers of Chivas Regal. He could do it daily. Did it daily. I can still see the faces of all those customers. The ones who taunted me and the trusted ones. There were retirees who never went anywhere but the bar. The workers who came directly from work to the bar. That was all they had. Me, John and Jack Flanagan. I was transferrd to another Blarney Stone on Webster Ave., and Fordham Road. Somebody was on vacation so there I was. Jack Flanagan owned this one too. Not as busy but had it's own characters. I used to work on Sunday and would open up at 12.00. It was amazing. You could see the customers at various locations across the street waiting for the door to open. They dare not be seen outside the door waiting. What would people think. There were about 5-7 regulars who religiously came and sat in the same spot each Sunday morning. I would set up their drinks, they would enter and take the same place at the bar as the previous Sunday and before that. Sundays were like that. In this bar I met my father's brother Hugh for the first time. He had written to my mother over the years and kept in touch after my father died in 1962, but never returned to Ireland after immigrating. I never understood why but I learned over time that he being a member of the old IRA had a lot to do with it. Somebody got shot and his passage was booked to America. He never went back. I somehow never forgave him for that because all he ever talked about was Tubbercurry. He lived on Jerome Avenue where I stayed many times. The Webster Avenue bar was not as busy as 181st Street, not as multiculturaled (like that) and therefore not as entertaining. I remember one night after work I went to another bar close by to meet some people from around Tubbercurry. One of those was a rock named Jack Brennan. Jack was short but large. A good character who told me he used to bring his horse into my father's forge to get shod. The first night I met him I could not buy a beer. We were playing darts and reminising about Tubbercurry. The night progresses and it was the first time I discovered Budweiser. The next day I was working at 12 noon and I wished I wasn't. I was in bad physical shape. Badly hung over. Nothing worse than feeling like crap, and smelling beer and whiskey and wishing everybody would leave. I remember to this day that the only relief I could get was bending down and pretending to be cleaning the sinks. That never worked since. Not sure how I ended my relationship with this bar but soon I was down on Wall Street in a restaurant serving martinis and manhattans for lunch. Can't remember the name of that place but it was 180 degrees from the Blarney Stone. These people ran 'tabs'. Not sure how long I lasted there but I was on the prowl again looking for new environs. I was never too worried about getting another job. Somehow it always worked out. My next adventure brought me among the money, to Park Avenue. Again not sure how I ended up there but expect I just walked down the street asking the doorman if they were looking to hire. 925 Park Avenue was hiring. Jimmy Fenlon was the superintendent of 925 Park Avenue. This place had 13 floors and 4 units on each floor. Cannot recall if Jim was the one I spoke to about a job. Jimmy was a big Irish American married to a petite Italian girl. They were both good people. They lived in the building. There was a back elevator in the building where we would zoom up and down the floors taking out the trash for the tenants. If there was a problem it was easy access to the apartment rather than slog in the front door which in these high priced units was unacceptable. These apartments, singles - one floor, or doubles - two floors, were big. There was not any hollywood type tenants but these people were not wanting for money. They were writers, doctors, medical researchers, and then there was the Stevens family. More later on the Stevens family, specifically Mrs Stevens. My job was basically maintenance. Keep the place clean, if anybody had problems attend to it, pick up the trash daily, mind my business, call the tenants Mister, Missus, be happy, get paid, go home, come back again tomorrow. From where I lived in upper Manhattan I used to get the bus from 191st Street and St Nicholas Ave to 80th and 5th Ave. I would walk across to Park. I could also get the #1 train downtown to Times Square and switch to another to get across to the East side. The bus would go through Harlem and on hot summer days it was a sight to see all the activity on the streets. On reflection it was great. One time I was looking out the window of the bus, saw a ten dollar bill on the sidewalk, got off grabbed the money and took the next bus. Most of the tenants of 925 Park were nice people. Most. Then there was Mrs Stevens.
I was told that Harry M. Stevens, husband, owned the food franchise to all the football stadiums in the country. What else he was into I dont know but this family was extremly well off. Mrs Stevens, as I used to address her, was a woman I never forgot. Wanted to, but she has stuck in my mind for all these years for a very good reason. At some stage in this job I was 'promoted' to the front door detail. Here I had to wear a uniform with a hat. I got used to it. I would hail the cabs, open the doors, run the elevator. In Mrs Stevens case I was expected to make sure the police did not give her tickets for parking illegally. Here is her story. One day she double parked, illegally, outside of the building and asked me to keep an eye on the car in case the police came around. I obliged. But the police did come and told me to get the car moved or get a ticket. The officer said he would go around the block and if it was still there when he returned it would get a ticket. No problem. It was more than enough time to get Mrs Stevens on the intercom, alert her and get her down to move the car. She responded "I'm coming right down". They lived on the 7th floor. Time passed and no sign of Mrs Stevens or any member of her family. The officer returned. I called again and she answered saying "I'm on the way". The officer waited, giving her more than ample time to avoid a ticket. Still no Mrs Stevens. He wrote a ticket for $25 placed it on her windshield and left. No problem. Or so I thought. Eventually she appeared. She walked to the car saw the ticket and went ballistic. She used language familiar to me, directed it towards me, and then proceeded to Jim Fenlon's office to have me fired. Now here am I getting a few bucks a week keeping the building safe for her and her family, and this woman who has enough money to buy the building, wants me fired. Jim Fenlon stuck to his guns and said he was not firing me. It was my first bad experience with a nasty Park Avenue bitch and one I never forgot. The following Christmas when every employee was given gifts of money from the tenants, I got nothing from the Stevens family and everybody else was cut $5 from the previous year. Enough to make up the cost of the ticket. 7A had Mrs Loftus. An older lady who lived alone after her husband passed some years before. She gave me new insight into frugality one Christmas. Mrs Loftus was elderly. In 1973 that was anything over 40. She was real elderly. Cordial though independent. Never took many cabs. This event happened sometime before Christmas when she was going out somewhere to meet friends. She had a gift for somebody but apparently she ran out of wrapping paper. She turned up in the lobby and I do recall as I write this that her voice was rather whiney. By that I mean slow and nasaly. It was the voice of somebody that gave the impression they were always unwell and somehow needed people to ask how they were feeling. Anyway there she stood in the lobby beside a Christmas tree, that the superintendent Jim Fenlon had erected with various ornaments and wrapped up boxes to resemble presents and give a pleasant seasonal feel to an otherwise bland space. I could not believe my eyes when I saw her sneak the wrapping off one of the boxes and use it to wrap her own present. At the time I wanted to say something but I bit my lip and turned away. Forty years later I can still see her at the back of the lobby grabbing that piece of paper. I never knew anything about her finances, whether she was rich or poor but I knew my financial standing and knew I would never "take" something off somebody's Christmas tree for my own benefit. Why this image is still visible after all this time is beyond me. Next door, towards 81st Street, I often saw a limousine, with the same driver, pull up for a small white man who lived next door whom I did not recognize. Those days I assumed a limo, somebody famous. Not so. Anyway one day the driver was waiting for his client, double parked, and he strolled towards my door passing the time. I got talking to him and discovered he was Irish, from Roscommon. He was small, wore glasses and was extremly friendly. Naturally we talked of home and and I was curious about his client. Hoping it was somebody famous that I could write home about. Not so. He was a musician, but not anybody that I knew. I do not remember the limo drivers name but let me tell you this Irishman hit the headlines in the Summer of 1974. His picture was on the front of the newspapers and on the TV for an event which was like something from Hollywood. Domnic Byrne, was his name. I googled it and sure enough there he was. He was a happy, sporty character. I believe he was from Castlerea. That summer my mother came over to New York for the first time. It was very hot. Very uncomfortable for me so I can only imagine how she felt, though she never complained. She was always like that. Even in distressing times, she never complained. She had been a widow since 1962, when my father passed away, June 15th. Here she was in New York City on her first real holiday, and it was a heat wave. We all persevered. While she was here I planned a trip to California for both of us. She would meet cousins who always wanted her to visit and never saw each other in aboutforty years, since they immigrated. So we did. We stayed in Newport Beach with our cousins. They were wonderful people. We met so many people. One of them invited me to go out for a day on his ocean boat with some other relatives. Can't remember their names. Anyway, I am not a swimmer so there was a little reluctance on my side but I really wanted to get a tan so I gave it a go. Really. I wanted to get a bronzed body like the Californians, get my picture taken and send it back to Tubbercurry. Now when I lived there any photos of bronzed Californians were usually poster in magazines. Not that I was trying to elevate myself to their level but I could hear my friends "Jesus Christ look at him, he's looks like an American and in California no less". Alas no photos exist of my day on the boat. Just as well really because that day was one I will never, never forget. First of all I am white. What I mean is really white. Scary white. We never had much sun in Ireland prior to 1973. So here I was with an opportunity to make up for all those years of wet, dreary, summer days. Did I ever. I got burned so bad that day that I could not put a shirt on. Beet red. Very sore beet red. I had been advised to keep my shirt on but did'nt listen. I had numerous suggestions for relief but none of those concoctions would work. It was the worst burn I every experienced. Never forgot it. Anyway, one morning while sitting in a kitchen in California, in a very painful state, I picked up the local paper and on the front page was a photo of Domnic Byrne, the kidnapper. Domnic and another Irishman, a firefighter, decided to kidnap an heir to the Seagram family. Reading about it after the plot unravelled was quite funny as to how the whole thing was concocted and resolved. "Allegedly" (a word I hate to see in print and reluctantly I place it here) they were all very good friends in the "rainbow" fashion and the heir, Bronfman I believe was his name, wanted to get his hands on some of the family fortune before it's time. Domnic and friend "kidnapped" him sent a ransom note to family and demanded x amount of dollars. Not being an experienced 'mannapper' probably was Domnic's downfall. Anyway it did not work out too well and when the plot was exposed the heir denied knowing Domnic and the firefighter, but he really did. The comedy of it was the firefighter was committed to hospital and attempted to escape out the window but broke his ankle when he jumped. Domnic came clean, got a few years in jail and I never heard of him again. I did enjoy my time on Park Avenue but I knew it was not a career. The summer of 1974 changed things for me. I was standing at the door of the building one day and three of my school friends from Tubbercurry came strolling down the street. Brenda Blee, James Gillespie and Mary Mullaney. They were over for the summer working. James ended up being my connection to South Jersey. He had an uncle, a Saint John of God Brother, who taught in Saint John of God School in Westville Grove.. more later
Website powered by Network Solutions®